BrianZ's Golf Course Design Resource
Mai Nui 'ekahi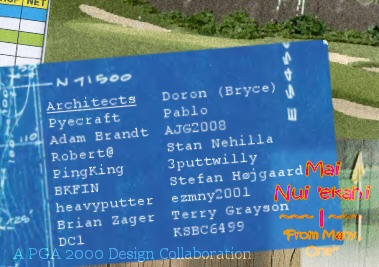 Download
Course
Mai Nui 'ekahi (25.6 MB)
Libraries
Plot
Course Info
| | |
| --- | --- |
| Architects: | Pyecraft | Adam Brandt | Robert@ | PingKing | BKFIN | heavyputter | Brian Zager | DC1 | Doron (Bryce) | Pablo | AJG2008 | Stan Nehilla | 3puttwilly | Stefan Højgaard | ezmny2001 | Terry Grayson | KSBC6499 |
| Year Built: | 2009 |
Mai Nui 'ekahi is a fictional course based on the plot of the Kapalua Golf Club Plantation Course, site of the PGA Tour's Mercedes-Benz Championship. The plot features 700 feet of elevation change from high to low point. The course is a collaboration of 17 different PGA 2000 designers where each designs a single hole of the course and passes it on to the next designer. At 7,107 yards it plays to a par of 71. The name of the course, Mai Nui 'ekahi, is Hawaiian meaning "From Many, One". The music is from the game "Waialae Country Club" for SNES.
The idea started as doing another hole by hole design contest similar to CC Park and 9 Mile Bay. I didn't know if there would be enough interest though so to ensure maximum participation I felt voting was esential. As a result we voted to make it a collaboration where each designer would take one hole instead. We also voted on the plot type/location and course name. Robert@ went first, chose the custom libraries used for the course, and set the tone with his choice of textures and planting on the 3rd hole. For the last hole to be completed, hole 9, we held a contest which PingKing won. PingKing also created a new library and put the finishing touches on the course.
In the link below you will find screenshots of each hole and comments from the desingers in their own words about their holes.
Hole Descriptions and Screenshots
Finally I would just like to say "Thanks!" to everyone who participated and made this project a sucsess.