BrianZ's Golf Course Design Resource
Pagoda Country Club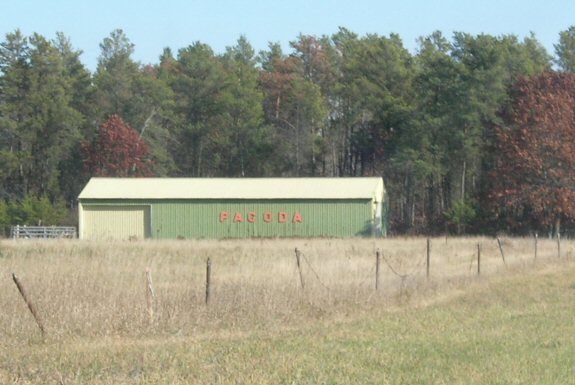 Download
Course
Pagoda Country Club (15.7 MB)
Libraries
Mirrors
Course Info
| | |
| --- | --- |
| Architect: | Vincent Pelot |
| Year Built: | 1969 |
Pagoda Country Club was a real 9 hole course located near Nekoosa, WI. It was open for about 10 years in the 1970's. It was a fairly short course at 2,394 yards long and played to a par of 34.
Newspaper Article About the Course
Screenshots
About This Rendition
This course is really a hybrid of real and fictional. Where I had information, I recreated everything as accurately as possible. For everything else I looked at it as if I was designing the course myself. Primarily what I designed myself was the green contours. The greens were probably not as contoured as I made them but I hope they add interest to the course.
The course does not play tough and is not intended to. Despite this I think you'll still find that it makes for exciting golf, especially in match play. With 4 drivable par 4's and a short par 5, there are 5 eagle chances in every round. Through my green sites I've tried to set the course up with risk reward so that going for eagle may result in par or worse with a poor shot while laying up gives an easy birdie opportunity.
Recommended normal course conditions –
| | |
| --- | --- |
| Rough: | Average |
| Wind: | Breezy |
| Greens: | Dry |
Due to the slope on some greens, it may become unplayable in very dry conditions. Play very dry at your own risk.
The splash screen is from a picture I took of a shed that still remains on the site of the course. The music is from the game "Pebble Beach Golf Links" for SNES.
About the Project
| | |
| --- | --- |
| Starting Date: | 9/4/06 |
| Ending Date: | 2/22/09 |
This project began when I was curious about a local course that closed 4 years before I was born. I did some research at the library and found a few newspaper articles about the course when it first opened. I also visited the site and took some pictures on October 31, 2006. There's not a whole lot to see, it's basically just an open field with trees on the borders and east half, but I did create some new 2D objects from pictures I took.
Determining the original layout of the course was tricky. It turned out there were still darker patches visible on the satellite images where tees and greens were. The length of the holes was given in one of the newspaper articles. I was able to work backwards from the clubhouse and figure out holes 5-9 pretty easily. The first 4 holes proved more difficult to figure out but I feel pretty confident I got them right.
There is one new library with the course. The 2D objects are all from pictures I took at the site. There was no need to reinvent the wheel for trees this time since the same kind of trees that were created for The Ridges are here. The course was not watered much outside of greens and tees so I needed a much dryer look. I did have a dry rough texture from The Ridges that I used but I created new tee, fairway, fringe, and green textures. I also added a train sound for fun and a little extra immersion. Don't lose your focus when the train goes by! The train audio came from this YouTube video.
The biggest technical challenge of this project was the rail road tracks that border the north side of the course (parallel on the right side of four and behind six green and seven tee). I spent a lot of time trying different things. An early idea was a texture for the rails but a big long thin shape like that was causing the architect program to crash. I couldn't get it to look very good anyway. I ended up using the second bridge in the bridges library, scaled the size down to 0.702, and sunk it so only the top showed. Laying them back to back was tedious and any kind of slope presented problems with them matching up because you can't tilt them. You'll see this in a few spots. Also if your ball gets near the rails, that bridge section disappears. I dropped individual shapes for each railroad tie, about 2,500 total. I found out that duplicating more then about 500 shapes at a time was a bad idea because it puts the CPU at 100% for 15 minutes and when it finishes, some of the shapes come out wrong. Other then that, this part wasn't too bad and the look turned out pretty good. I thought dropping this many small shapes might cause problems but it didn't. I used a couple of rock blend textures I created for the bank.
It was two and a half years from inception to completion but most of the work was done in four months. It was just an idea and research in 2006. In January/February 2007 I got the DEM plot elevations in and laid out the holes. Then I pretty much didn't touch it again until January/February 2009 when the bulk of the work was done. I jokingly thought if I didn't finish it before the end of February I wouldn't finish it until January/February 2011.
Thanks To
Those who created libraries used by this course –

Jörgen Ekroth - Woodford Park
Ken McHale - North American Woods

Stan Nehilla and Tincup's group for playtesting.
Dr. DanO for his timeless green tutorials.
All the players who keep this community going. I hope you get as much enjoyment out of this course as I do.