BrianZ's Golf Course Design Resource
Martindale Country Club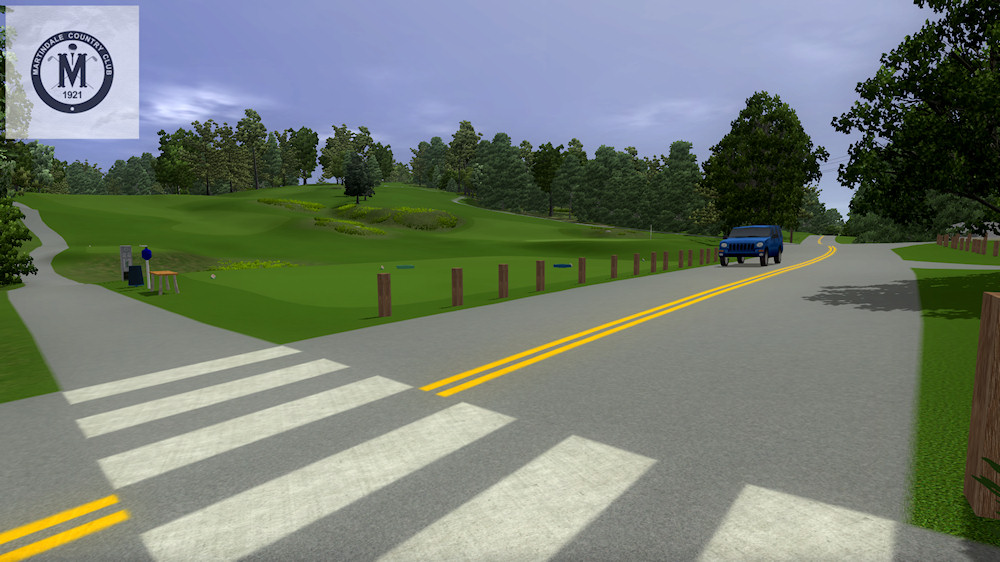 This course was created for the P3ProSwing golf simulator and is only available for download through them.
Course Info
Martindale Country Club is a real course located in Auburn, ME. It is 6,538 yards long from the back tee and plays to a par of 71.
Screenshots
About This Rendition
Recommended normal course conditions –
| | |
| --- | --- |
| Wind: | Light |
| Greens: | Normal |
This rendition is as faithful as possible to the real course based on information found on the internet and videos provided to me by P3.
About the Project
| | |
| --- | --- |
| Starting Date: | 6/21/13 |
| Ending Date: | 10/28/13 |
This project started off as a demo hole for Sports Vision, the company behind the P3ProSwing golf simulator. The demo hole was the 16th hole and was completed in just 4 days. After that Sports Vision contracted with me to do the full course and work began in mid-September.
A major challenge with this course was the amount of slope on the greens. To help solve this problem I developed slower greens speed properties and a method for fixing fall off edges on greens where the LiDAR data wasn't accurate enough to create sharp edges. I gave the rough a little more bounce with some new surface properties since this course is in a rocky area where the ground is probably harder. For the bunkers I solved the two problems from my last course, The Ridges. I developed better bunker lip blending that does not blur as bad in the distance and Jeff Helton provided a tutorial for sinking bunkers that helped me get rid of the over simplified look of previous efforts. That tutorial also gave me a set process to do them faster. To speed things up on future courses I wrote some scripts in AutoHotkey to make repetitive tasks such as adding borders/blends to shapes and smoothing elevations easier and faster.
Setbacks included a few false starts on figuring out what do to about the greens and having to redo most of the shapes on the back nine after completing them once with a lower resolution LiDAR import. This contributed to a crunch in the last two weeks to finish on time. Working every available hour after work and weekends plus taking a few days off work I was able to get pretty much everything I wanted into it.
Thanks To
B.J. Weworski - Provided LiDAR data, created objects for around the tees, and created a new texture set.
Stephen Faupel - Created the clubhouse and factory objects.
Jeff Helton - Provided a tutorial for sinking bunkers and flattening tees. Fixed graphical issue with low detail billboard versions of some trees.
Joe Habiger - Fixed some trees that shook too much in windy conditions. Fixed graphical issue with low detail billboard versions of some trees.
The above people plus Brian Silvernail, Sam Appleton, Jared Katzenberger, and Chuck Rosol for testing.
Sports Vision Technologies - Creators of the P3ProSwing golf simulator who are providing the opportunity for me to make money doing something that interests me.
Red Chain Games - Making the software that makes this possible.