BrianZ's Racing Simulations Resource
Michigan - High Banked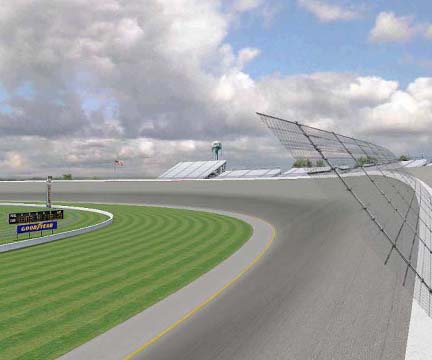 Download
Track
Installation
Track Info
This is a fictional mod of Michigan I made by request for a member at the Sierra forum. It has about 38° of banking in the corners, 22° on the front straight and 10° on the back straight.
Installation
Make a new folder in your tracks folder called high_banked_michigan.
Copy all files from the Michigan folder and paste them in the new folder.
Change the names of the files michigan.cam and michigan.dat to high_banked_michigan.cam and high_banked_michigan.dat.
Add the files from the zip to the new folder and overwrite any old files.
Enjoy!
AI Notes
I haven't tested the AI very much but I know they are slow so I changed the ai_grip_modifier line in the track.ini file. I'm not sure if I went too far or not far enough so you may want to change these lines yourself to improve the AI:
ai_grip_modifier
ai_drag_modifier
ai_qual_modifier
Download it Here (49 KB)
Thanks To
Big thanks to WhiteFalcon aka Fred Anderson for making the utilities available to do this.