BrianZ's Racing Simulations Resource
Sunshine Speedway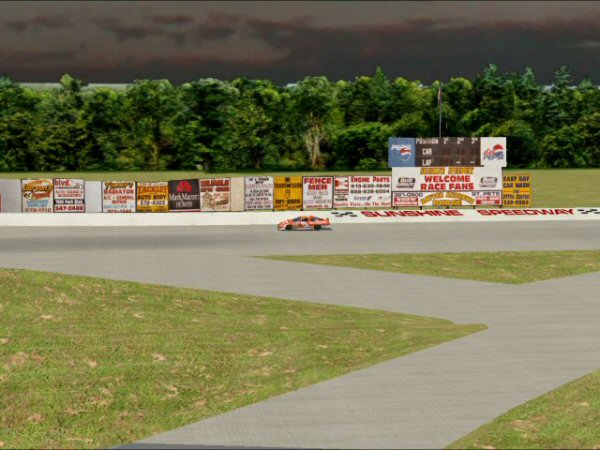 Download
Track
Mirrors
Installation
Track Info
| | |
| --- | --- |
| Track Name: | Sunshine Speedway |
| Version: | Version 1.0 |
| Racing Sim: | NASCAR Racing 2003 |
| Author(s): | Brian Zager and DraftDancer |
| Type: | Real - 0.25 Mile Low Banked Oval |
| AI: | Yes |
| Mod Support: | CTS, GNS (see track notes) |
Track History
Sunshine Speedway opened in Pinellas Park, Florida in 1960, and has been going strong ever since. The original owner developed the quarter-mile track on his 250 acre dairy farm. He got the idea to open a track in Pinellas County after attending races at the old 0.33 mile asphalt Golden Gate Speedway in Tampa, Florida (The Grand National boys visited Golden Gate in 1962, but never came back). Noting that Pinellas County racers outnumbered the "local" Tampa racers at Golden Gate, opening a track back across the bay in Pinellas County made sense to him.
With growth in the area over the track's 45-year history, the property is now surrounded by urban sprawl. As one of the last large parcels of undeveloped land in the area, and being adjacent to a regional airport, developers -- and the state -- envision other uses for the property. A multi-lane throughway to ease traffic congestion is proposed that would pass right through the property. So, Sunshine Speedway's long history has come to a close. In 2004, the state bought the property and the owners/promoters finished out the 2004 season with a grand finale of racing on November 20, 2004.
The track hosted weekly Saturday night racing for open-wheel modifieds, outlaw late models, street stocks, mini-stocks, enduros, and a figure-8 race. Special events include go-kart races, bath tub races, boat trailer racing, train racing (3 cars chained together), demolition derbies, and the ever popular school bus figure-8 races. There is also an active dragstrip and a motocross facility associated with the Speedway property, and those will continue to operate for a couple of years until the highway development begins.
We've tried to accurately re-create the look and feel of the track, as it looked in 2004, for your enjoyment in NASCAR Racing 2003. If you wonder about the billboards only covering half the backstretch; there were a lot more billboards on the backstretch in 2003, but the other half blew down in a big thunderstorm.
Given certain limitations in the game, we took a few liberties in the design. For example, we're missing one decent sized grandstand in the curve of T4; just can't fit it in. Similarly, there is no room to put the proper sized T1 grandstand in either. Sunshine doesn't have a pit road. The real 'pits' is just a closed off area of the parking lot where racers can work on their cars between races. But the game track does reflect the correct locations for the track exit and entrance.
For a view of the real track, we've included a sunshine overhead view of the TerraServer image, or go to the image at TerraServer to see it in different magnifications.
Screenshots
Installation
Simply unzip the download to your */tracks folder. The zip comes with its own Sunshine folder.
Track Notes
Given the track type, the CTS physics stanza has been given the most attention, thus focusing on the CTS, ASA, and Aero88 mods. The cts stanza was developed by trying to hit a happy medium between the AI speeds generated using da'rock's 2004 trucks and the ASA and ASA 2.0 default car sets. The default aero88 carset runs about three tenths of a second per lap slower.
The "basic" [ track ] and [ ai_track ] settings in the ini are designed for the BGN physics, including the Hooters mod. The ini is not really designed for the high horsepower Cup cars, but setups are included. Again, the ini settings are a compromise between the speeds created by the original GNS2003 carset and the default Hooters carset.
The AI start off a bit slow. If you qualify up front, you may run off and leave them early. Don't worry; they'll be back. If you qualify in the back or take provisionals, they are slow (like most tracks) and it's hard to get around them before the leader comes up on you.
The AI are set to run a full 200 lap race without pitting, if there are no yellows. You can, with a good setup, so they might as well do it, too. If you want them to pit at about lap 120 (a mediocre setup will have a RF go yellow about then), increase their fuel use in the ini to about 1.5, their left tire wear to 0.40 and their right tire wear to 0.80. You can play with the numbers to get it right.
YOU MUST STAY BACK FROM THE PACE CAR ABOUT 100 YARDS; MAINTAIN THE DISTANCE THAT YOU START AT, AND RUN PACE SPEED!!!!! If you get close, it will get in your way as you start. When a yellow comes out, the pace car may surprise you coming out of the pits as you go by. It'll go right thru you, and it's a bit of a surprise.
If the end user has a car set with aggressive ratings, they will see more wrecks than someone with a less aggressive car set. If they are too tame for you, you can adjust these lines in the ini.
ai_line_modifier = 1.0 - try 1.01 or 1.02; no higher
ai_dlongpad_scale = 7.0 - increasing it; maybe as high as 15 or 20
ai_dlat_pad = 1.00 - try decreasing it; no lower than 0.75
If you want to run about 12 cars and have them 3-wide, there is a maxrace_3wide.lp included. It won't work well with a full field.
You WILL lose a lap under yellow if you pit.
Known Bugs
There is a hidden "bump" in T1 that makes you and the AI bounce. It's an artifact of other pieces of the track and can't be fixed (or at least none of us know how to do it).
This track is made with Butters_' principle, expanding the centerline outside 0.45 miles. Under yellow, the AI take some time to get sorted out, but be patient. They do. Also, be ready to stop on the track if a few AI pit; the AI that stay out, who were behind the pitting AI, will slow or stop in T1-2. They'll go again as soon as the pitting AI get into their pit stalls. Pace speed goes up and down because of this.
Because of the way this track is made, a yellow can be hard to come by. If you spin out, or get spun out, you may not see a yellow. Even if you try, you can't cause a yellow on occasion (something about needing to cross an x-section... and I guess there aren't many.)
The pit configuration and the angle change between the track and the pit entrance caused some AI mishaps getting into pits, but hopefully we've fixed that now. If not, we're not sure what else to do.
Some AI may pit on the green after a caution.
Credits
Many thanks go to the folks associated with Sunshine Speedway, Inc., for agreeing to let us make this track for the game, and for providing the details of the track configuration and other pertinent information, as well as allowing us on the property to take close-up pictures.
Special acknowledgements are in order to recognize:
Thorsen Rueter for cam files
Chris Haskins for taking a look.
da'rock for lp's and ini edits.
steve*b for lp and ini work.
ryche69 for providing servers for online testing.
Beta testers include: steve*b, da'rock, ajshoe, JR Franklin, ryche69, Ace27, fej83, Brendan McDade, Bruce Beckwith.
Also thanks to steve*b for writing the text file, the contents of which is displayed above.