BrianZ's Golf Course Design Resource
The Ridges Golf Course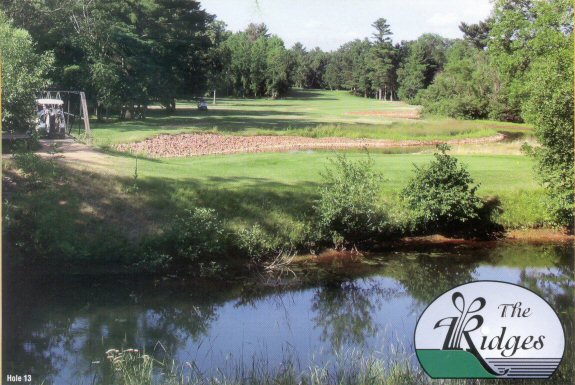 Download
Course
The Ridges Golf Course (25.3 MB)
New Libraries
Old Libraries
Mirrors
Course Info
The Ridges Golf Course is a real course located in Wisconsin Rapids, WI. It is 6,289 yards long and plays to a par of 72. The front 9 was built in 1963 and the back 9 was added later. The site covers approximately 220 acres of land.
Screenshots
About This Rendition
Recommended normal course conditions –
| | |
| --- | --- |
| Rough: | Average |
| Wind: | Breezy |
| Greens: | Dry |
Due to the slope on 14 green it may become unplayable in very dry conditions. You've been warned.
The splash screen is from the score card picture, a picture from the 13th tee. The music is from the game "Pebble Beach Golf Links" for SNES.
About the Project
| | |
| --- | --- |
| Starting Date: | 1/11/06 |
| Ending Date: | 1/17/08 |
The goal of the project was to produce my most realistic course yet. The project started when I was introduced to Terrain Assist, a program for the Tiger Woods games that also worked with PGA 2000. This program allowed me to generate the plot scale elevations very quickly and accurately. For the detailed elevations and objects I used pictures and took notes on the green contours during two of my rounds. I play this course almost weekly in the summer and consider it my home course but I didn't want to leave too much to memory.
I have made the individual files used in the libraries available for download. The four new libraries consist of:
90 Textures (Mostly different blends of the same 20 or so)
40 Objects (Mostly trees shot in a park a few miles from the course)
1 Sound
1 Pano
I wanted to improve the textures I used from previous efforts. As a starting point I used textures created by Jörgen Ekroth for his CPG course El Cortante. I adjusted them for use with PGA 2000 and started experimenting with blending. The object was to minimize the appearance of ugly shape seams. I also worked on water blends and created custom texture properties for most of the textures.
Another area I knew needed improvement was the objects I used. On past courses I used mostly objects others created that weren't exactly what I needed. The few objects I did create were from lower resolution images on the internet. This time I went out and shot high resolution photos of the exact types of trees I needed. Turning these into workable objects was a process that evolved over the first year of the project.
Along the way I also wanted to help others from what I learned. I turned the final process I used for creating 2D objects into a tutorial for both Photoshop and Paint Shop Pro. I also wrote a detailed tutorial for using Terrain Assist and Ghost It to create plots and lay out courses. Several times I've gone back and read them myself when I forgot how to do something.
All of this and going through my senior year of college resulted in the course taking much much longer to complete then expected - just over two years. I'm hopeful that with the experienced gained and the base of libraries I've created that my next course won't take nearly as long to complete.
Thanks To
Those who created libraries used by this course –

Jörgen Ekroth - Woodford Park
Ken McHale - North American Woods
Unknown - August

Poppy, Indy, Oglivy, Stefan, The Wizard, and Tincup and his anonymous test force for play testing.
Dr. DanO for his excellent green tutorials that I'm still using.
All the players who keep this community going. I hope you get as much enjoyment out of this course as I do.